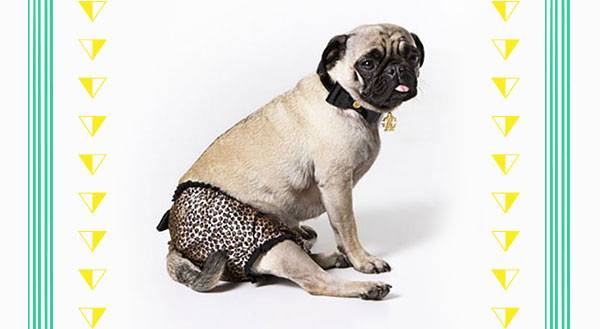 You're only interested in the finer things in life. You're the kind of person that wears designer brands and never uses the same handbag twice. If you wouldn't be caught dead inside a Wal-Mart, what are the chances your pet has some those refined tastes too?
We've found 11 luxury items for you to lavish on your most important treasure—your pet!
1. Louis Vuitton Collar - $375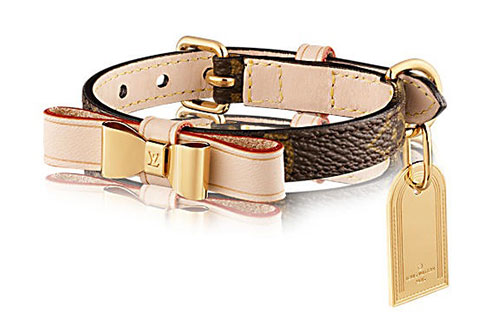 Image Source: Louisvuitton.com
If carrying your tiny dog around in your XL LV bag just isn't high-end enough for you, you can also give him the Baxter Dog Collar. This leather collar comes with a customizable gold name plate, so if he ever gets lost, people will know how chic he is!
2. Gucci Leash - $530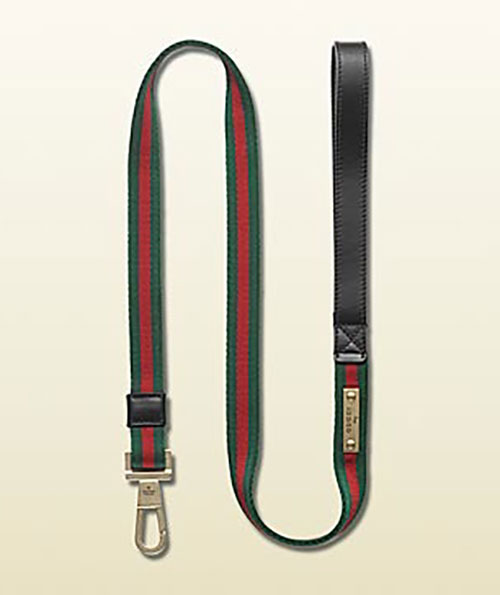 Image Source: Gucci.com
Why would you ever let your pooch be seen wearing a perfectly good leash from PetCo? The leather handle will feel so luxurious against your dog walker's hand!
3. Tory Burch Jacket - $66.50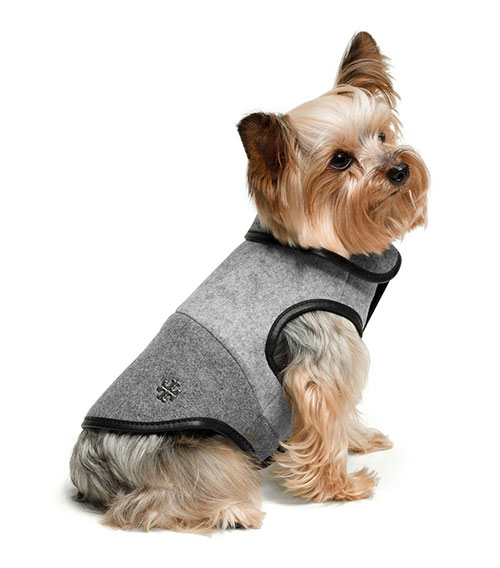 Image Source: Toryburch.com
Make sure you keep your pup warm as you walk to brunch with her featuring Tory Burch's Wool Dog Coat. At only $66.50, it's a bargain—unless your dog has a habit of chewing her coat.
4. Hermes Dog Collar - $950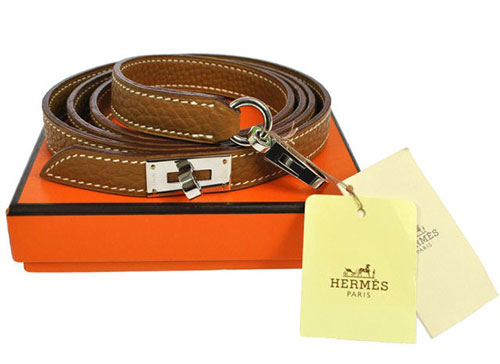 Image Source: Ebay.com
The Hermes Lassie de Chien O'Kelly Dog Collar is the collar to get when you're feeling that Louis Vuitton has become too common. They're actually out of production, so this collar will only increase in value. Just like Hermes' legendary Birkin Bag, this dog collar is a true symbol of status.
5. 20LTD Gold Brushed Pet Bowl - $2,400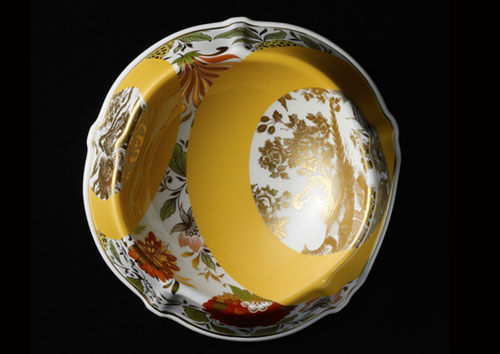 Image Source: 20ltd.com
No pet of yours should have to drink from a regular old bowl. Famed ceramicist Peter Ting's 22 carat gold Royal Crown Derby "Imari" pet bowl will match perfectly with your own set. Can you believe some people don't even bother to match their pet's china to the family's every day tableware?
6. Roberto Cavalli Dog Underpants - $1,200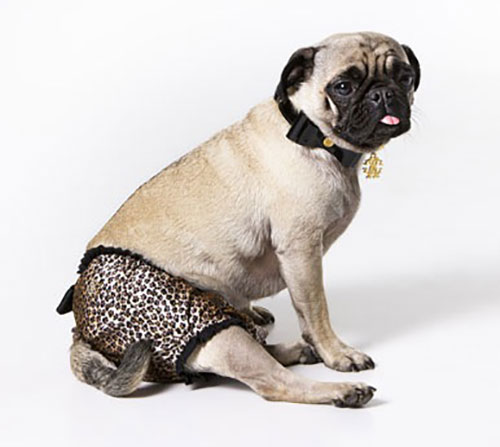 Image Source: Dog-Clothes-World.com
When your pet's rear accepts nothing less than leopard printed silk, Italian designer Roberto Cavalli has got you (and your dog's butt) covered. He has a whole line of "pooch couture" that includes Hugh Hefner style satin robes, embroidered coats, and Velcro track suits!
7. Cedel Pet Beds- $400-$2,000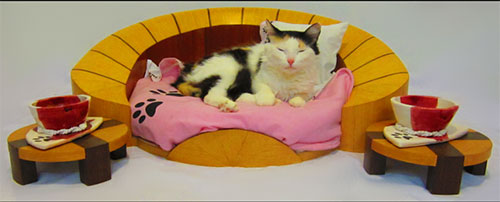 Image Source: Cedel.com
When your pet deserves to sit atop a throne, Cedel Pets and Style has a wide range of hand crafted pet beds, including the option to custom design a one-of-a-kind frame. Plus each one comes with exclusive bowls that you can only get by purchasing a bed, bringing the phrase "Breakfast in Bed" to a whole new level.
8. Dolce and Gabbana Pet Carrier - $648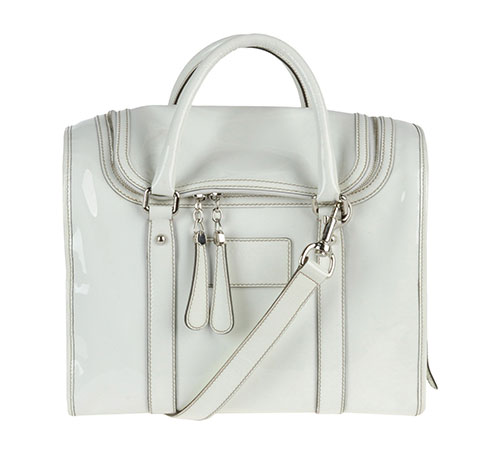 Image Source: Popsugar.com
This Dolce and Gabbana white patent leather pet carrier is the only bag you'll ever need. Let's just hope your pet is potty trained well enough to keep it white!
9. Swarovski Studded Cat Flap - $1,644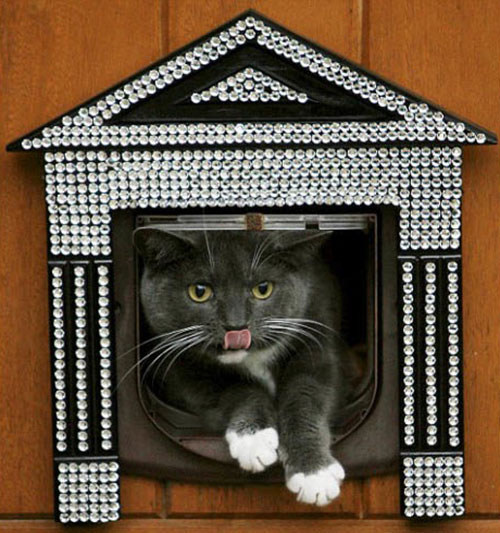 Image Source: Incrediblethings.com
Diamonds may be a girl's best friend, but when it comes to your cat, nothing but Swarovski crystals will do. Thankfully someone's found a way to cover up those dreary cat flaps!
10. Oh My Cat? Perfume - $19 per Bottle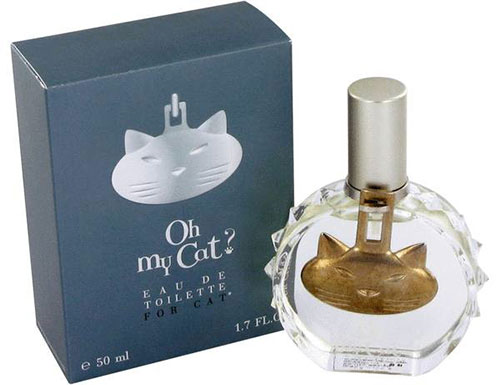 Image Source: Fragrancex.com
At $19 a bottle, Oh My Cat? isn't technically a luxury item. But perfume... for your cat? There's nothing more extravagant than that! The perfume smells of mandarin, musk and something called heart of olive leaf—a scent that can only be detected by cats. While Oh My Dog! is currently out of stock, there are plenty of other manufacturers that have their own puppy perfume.
11. Lotus Cat Tower – $424.99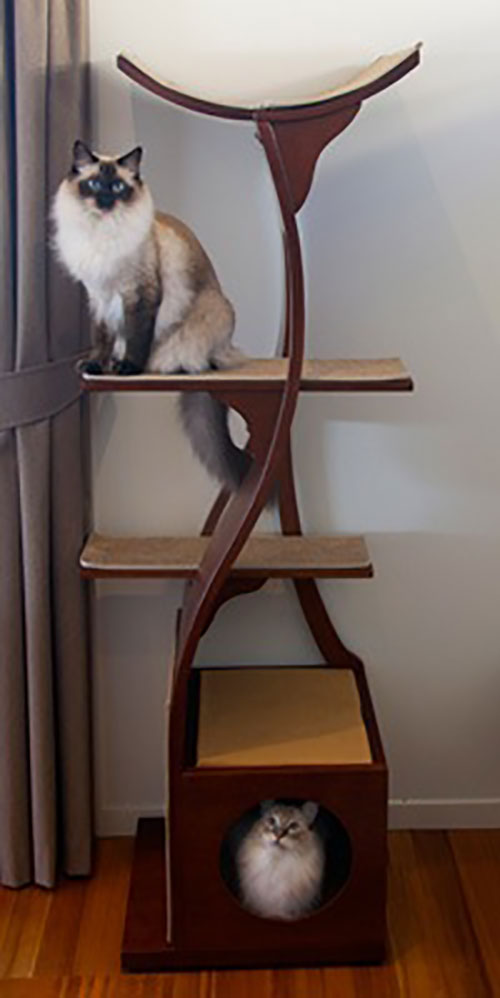 Image Source: Therefinedfeline.com
Why get your cat all dirty by having them climb a real tree in your backyard? This Oak cat tower with faux suede adds the right amount of feng shui to your room.
While these items might seem extravagant, true pet lovers (with a very good credit rating) know that nothing is too expensive or luxurious for their pampered pets.