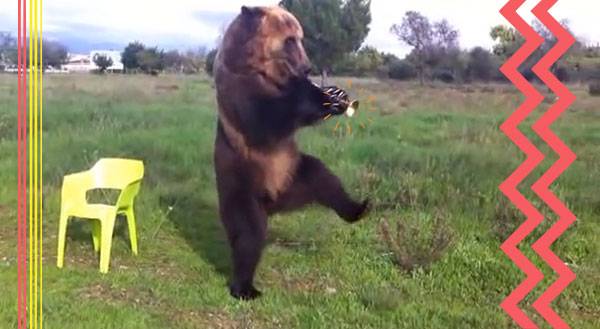 Good news, musically inclined cat freaks! Scientists have developed the purrfect music for cats. Cats have good hearing—even better than dogs—and that means that cats want to listen to high-frequency tunes that are incredibly annoying to human ears.
We're wondering if this music for cats sounds anything like this:
In honor of the fact that cats can now head-bang to their favorite hits, here are 7 other pets that are moved by music:
1. More Cowbell
Maple is a Vine superstar and an extremely watchable Border Collie/Golden Retriever/Sheltie mix. She's playing cowbell alongside Trench, her musician owner.
2. Can't Smile Without You
As soon as the guitar stops playing… this golden retriever stops smiling.
3. Shake Your Tail Feather
Frostie is a 33-year-old Bare-Eyed Cockatoo that can do a completely choreographed dance to Ray Charles' "Shake Your Tail Feather." Charles sang this song in The Blues Brothers and now we can't get the image of this bird dancing in-between Jake and Elwood out of our mind.
4. Let it Howl!
After Frozen came out last year, everyone was singing "Let it Go," even this family pup!
5. Grin and Bear It
We've all seen cartoons of circus bears that could dance around, but this Russian bear is the real deal.
6. Playing Jazz Till the Cows Come Home
The only good reason to start playing jazz… to transfix cows.
7. Poodle Crooner
Whenever this poodle was left home alone, his parents would get noise complaints from the neighbors. One day they set up cameras and THIS is what they found:
If these pets put you in a musical mood, check out our pet theme songs and UPLOAD YOUR OWN!
They're super catchy and submitted by pet freaks like you!