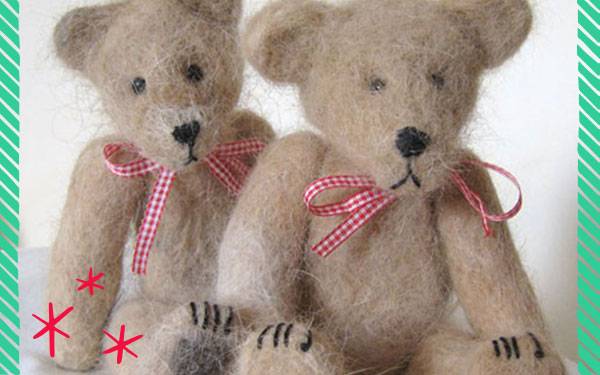 When Japanese cat-lover Kaori Tsutaya published Crafting with Cat Hair in 2009, the Internet was suddenly flush with crafters trying to make some money off their shedding animals.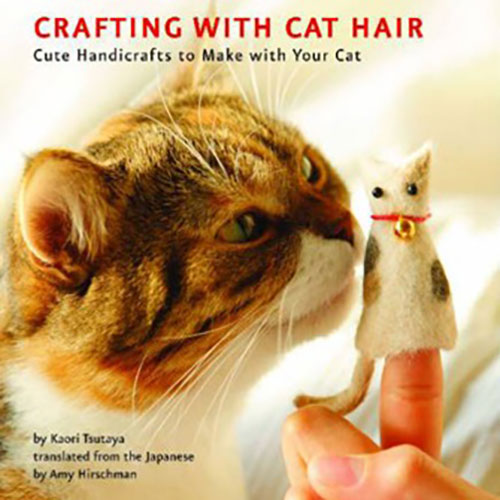 Image Source: Facebook
Just type "cat hair" into the search bar on Etsy and you'll be bombarded with a wide selection of jewelry, clothing and toys—all made from discarded pet hair.
Some people think it's gross. Others claim it's a great way to recycle the stuff that's been plaguing pet owners since the beginning of time.
Check out these items, all made from pet hair, and decide for yourself—are these crafts creeptastic or super cool?
1. Felted Friends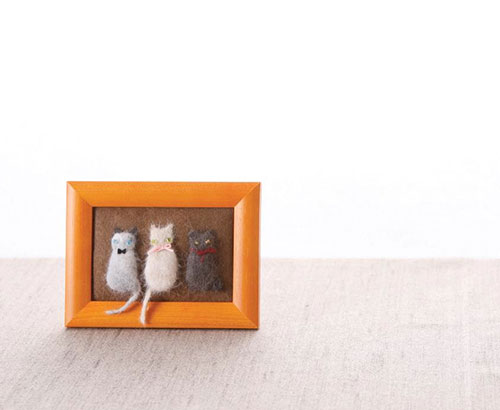 Image Source: Facebook
This piece comes straight from the original cat-crafting source, Kaori Tsutaya. This portrait is so cute, you almost forget that it's made from discarded cat hair!
2. Hair of the Dog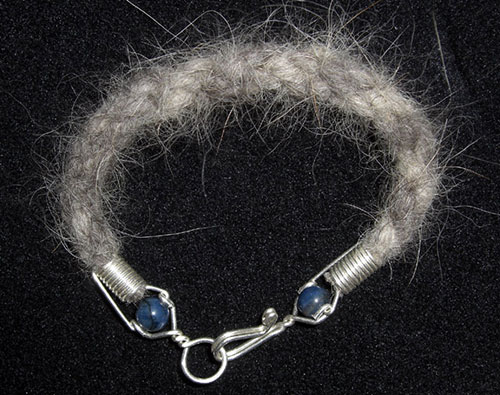 Image Source: wolf-of-samhain.deviantart.com
This bracelet, made from dog hair, looks incredibly scratchy and uncomfortable. That's an important quality in fine jewelry.
3. Cat Hair Pendant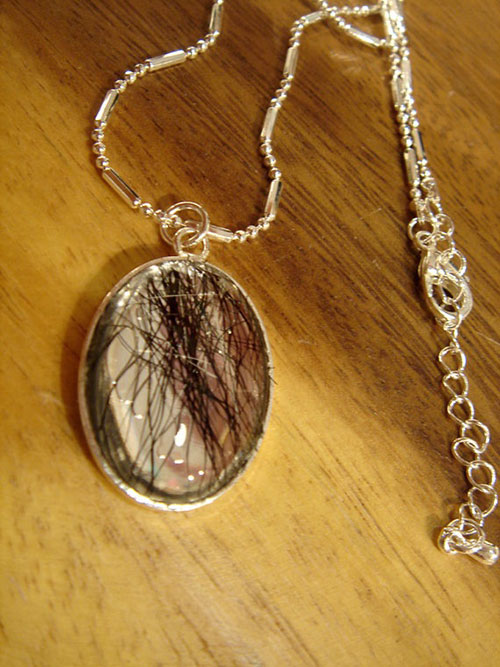 Image Source: etsy.com

Have you recently lost your pet? Consider having a chunk of the fur preserved in a necklace, so you can always have your best friend close to your heart.
Btw…the above cat hair pendant is clearly inspired by Victorian mourning jewelry, where people would place a lock of their deceased loved one's hair into an ornate setting.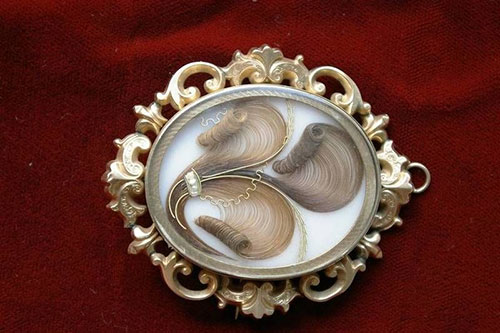 Image Source: suite.io
THE SIMILARITIES ARE STUNNING.
4. Hypnotizing Style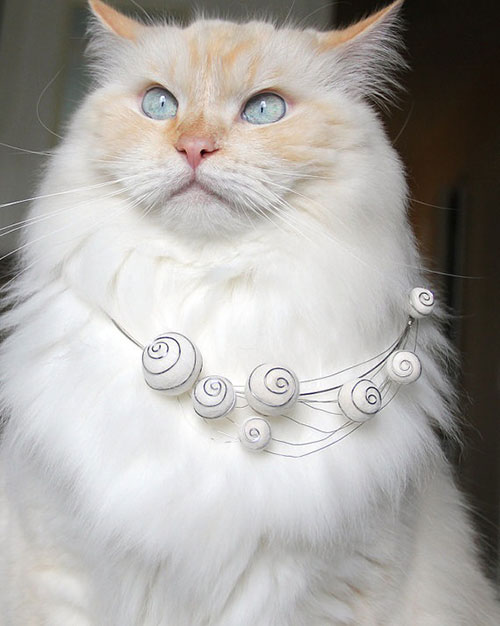 Image Source: etsy.com

Have money to burn and want to wear a strange cat's fur around your neck? The owner of this cat will sell you jewelry made from its hairballs—and it will only set you back $250!
5. Cat Couture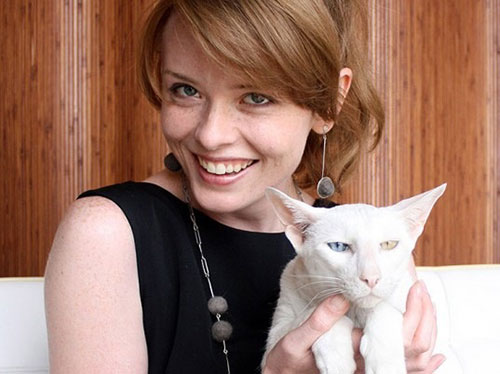 Image Source: ecouterre.com
This lady is thrilled because she commissioned a necklace and a pair of earrings to be made from her cat's hair. Her cat seems to be contemplating murder.
6. Lady Gaga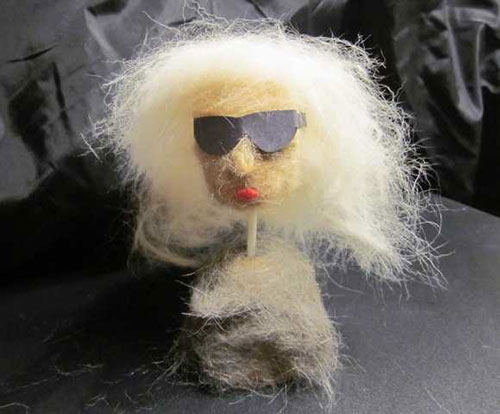 Image Source: petslady.com
While this cat hair homage to Mother Monster makes us want to sneeze, Lady Gaga should be taking notes. The only way to top that meat dress is to wear one out of cat hair.
7. Let the Cat Out of the Bag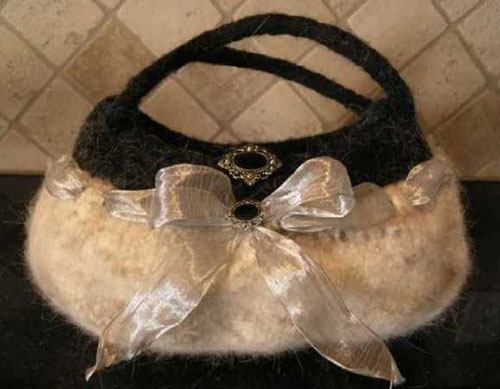 Image Source: petslady.com
Why have an expensive designer handbag when you can have one made from crocheted cat hair for a fraction of the price?
8. "Rustic" Dog Hair Socks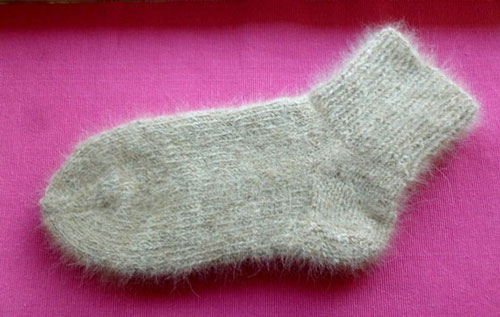 Image Source: etsy.com
The lady who makes these socks from her sheepdog's fur claims that the scratchiness of the sock provides a massaging effect for your feet!
9. Darling Doggie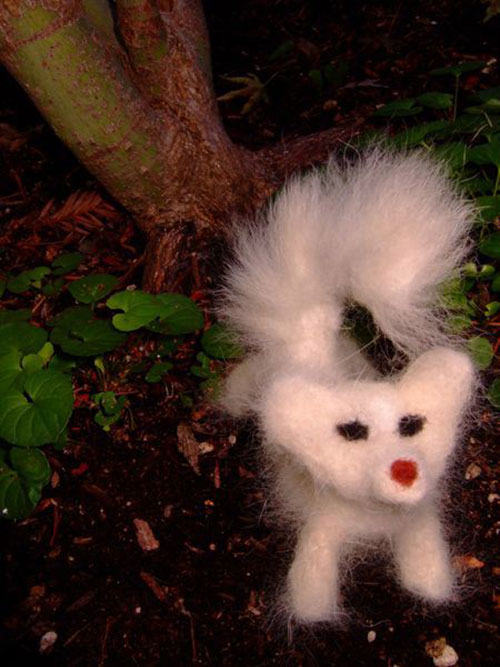 Image Source: makezine.com

Got some pipe cleaners and a shedding dog? Great! Now you have everything you need to create a fluffy figurine.
10. Terrier-Made Teddy Bear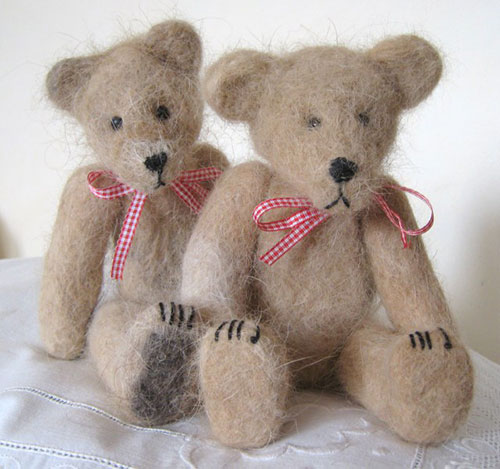 Image Source: dettasspindle.net
"Dog yarn is no different from any other kind of yarn." – The lady who made these bears.
11. Sweater Dog Duos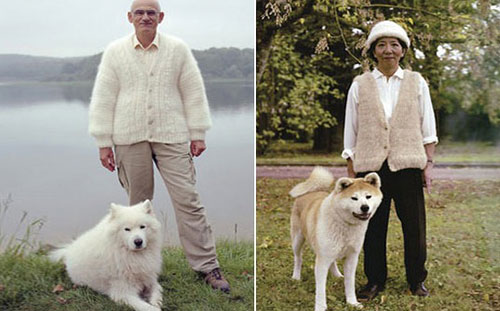 Image Source: amazon.com
This dog (and sweater) loving pair seems proud to be wearing the fur of their best friends.
They learned how to make those creations from this book: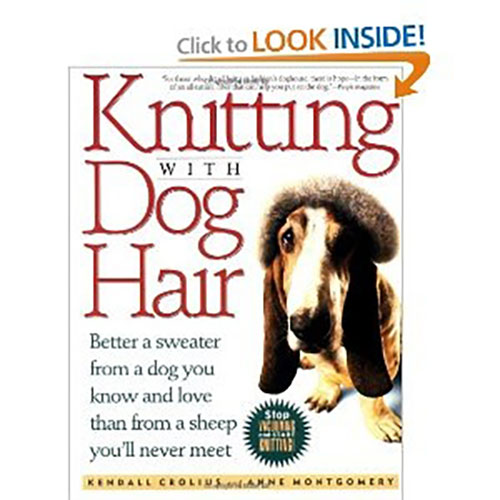 Image Source: amazon.com
Now that you've seen all the crafting you can do with leftover pet hair, you'll never wear a normal sweater again! You'll be brushing those pups and kitties with wild abandon just so you can have enough hair to fashion a beret! Go forth and make sweaters and jewelry, pet people.