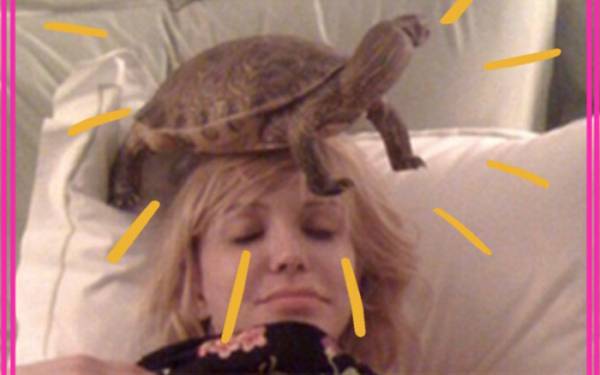 Thinking of getting a new pet, but tired of that whole dog and cat thing? Look to Hollywood's most glamorous stars for inspiration! Here's a list of the most unusual and wonderful celebrity-animal pairings.
1. Melanie Griffith's Lion
Amazingly, Neil the lion was the first of several live-in lions for the Hollywood family. The world was dumbfounded when Life published a photo spread of Neil just hanging around the house with Griffith and her mother, actress Tippi Hedren.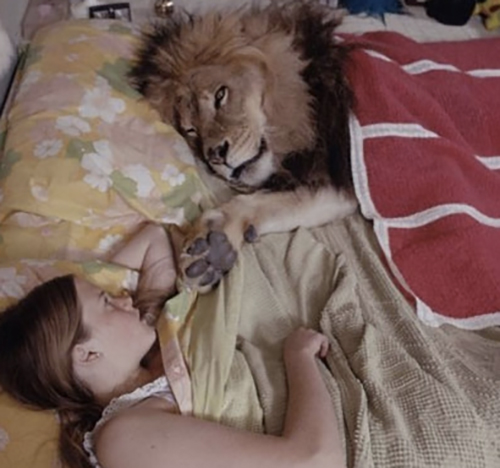 Image Source: www.thefrisky.com
"And then, the lion and the mouse lived happily ever after. Goodnight, Melanie!"
Hedren now runs a big cat sanctuary and admits that letting the lion live in the house was probably a bad idea.
2. George Clooney's Pot-Bellied Pig
Clooney lived with Max, the 300 lb. pot-bellied pig, for 18 years. They even shared a bed together.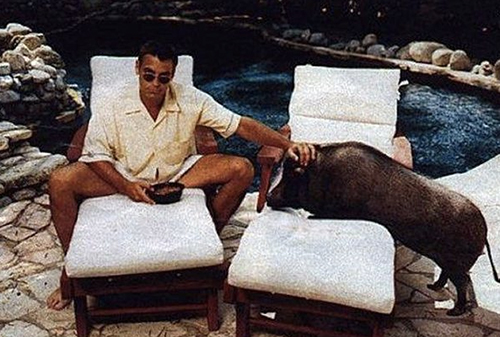 Image Source: Oddee.com
"I cuddle with a giant pet pig every night and I'm STILL the sexiest man alive!"
The old rumor was that the "sexiest man alive" had no room for a wife, as long as he had his pig. Max passed away in 2006 and Clooney wed Amal Alamuddin in September 2014.
3. Tori Spelling's Chicken
Lots of people raise chickens. But how many of those people dress them up and carry them around like they're tiny dogs? Coco Chanel, a Silkie Bantam chicken, sleeps in a dog bed and travels in Spelling's purse.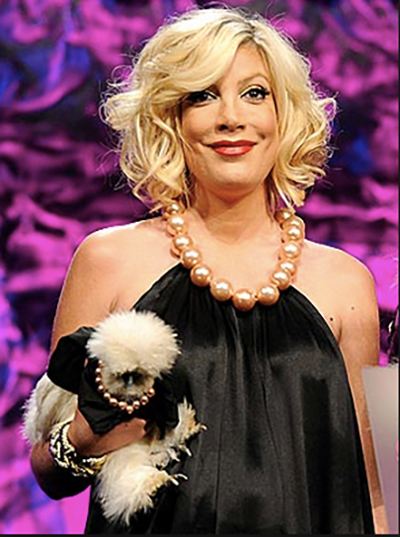 Image Source: peoplepets.com
"Black is very slimming. Even for chickens."
Spelling also makes all of Coco's clothing. Which makes total sense, since chickens normally wear clothes.
4. Salvador Dali and his Anteater
When you're the king of Surrealism, only the strangest of pets will do. Dali was spotted coming out of a Paris subway station walking his pet anteater.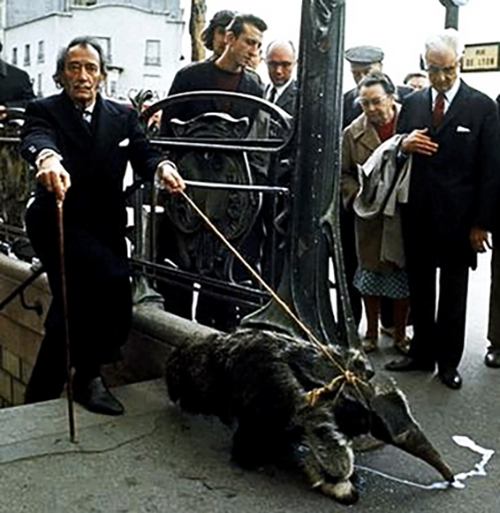 Image Source: Shadowvue.wordpress.com
"No, my anteater isn't just sucking up his own snot... it's ART!"
Dali also brought his anteater onto the Dick Cavett show and terrified Lillian Gish when he placed it on her lap.
5. Courtney Love's Turtle
What is it about celebrities letting their pets sleep in bed with them? Love set Twitter a'tweeting when she posted photos of her turtle on her head... in bed.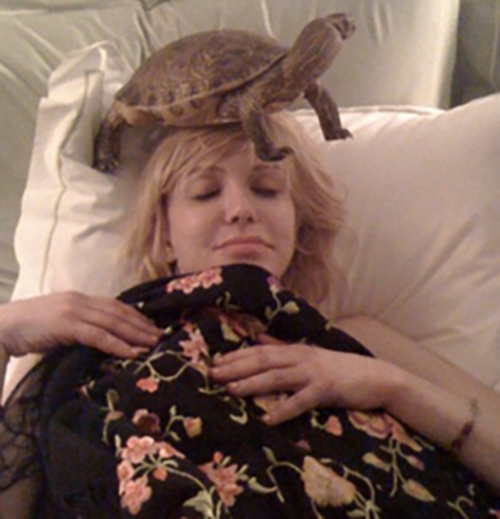 Image Source: Daily Mail
Don't worry, Turtle, you'll "Live Through This." We hope.
In 2009, Love's daughter, Frances Bean Cobain accused Love of killing her childhood pets... so maybe somebody better check up on this guy.
6. Josephine Baker's Cheetah
How cool does Josephine Baker look walking her cheetah, Chiquita? The big cat always wore a diamond-studded collar and traveled the world with Baker.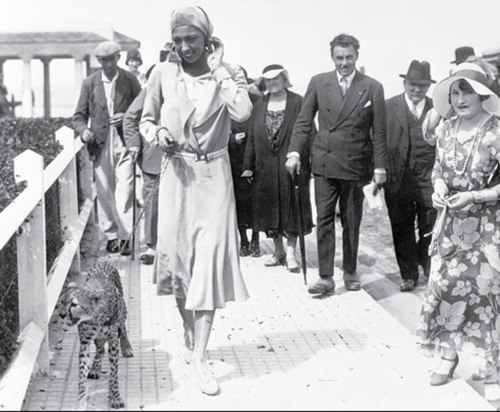 Image source: http://becuo.com/josephine-baker-cheetah
"Don't get on my nerves, or I'll let go of the leash!"
Chiquita was originally her onstage co-star and would often escape into the pit, terrifying the orchestra.
7. Paris Hilton's Kinkajou
Paris famously used to walk around Hollywood with Baby Luv, her kinkajou. The animal is a raccoon-like rainforest creature on the endangered species list.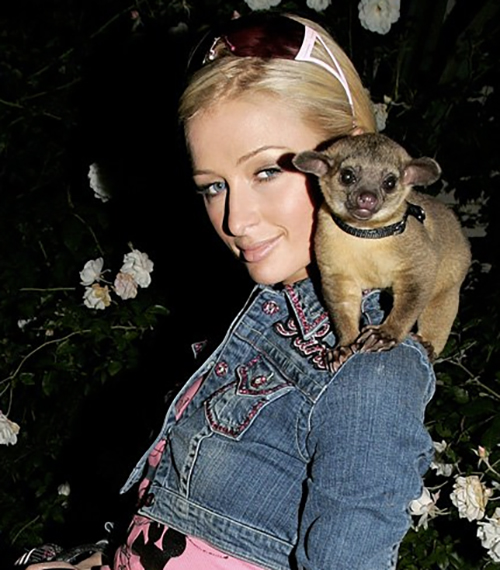 Image Source: myfavouritepetblog.blogspot.com
"My shoulder is SO HOT right now."
She stopped going out with Baby Luv when he bit her in 2006. Good job, Baby!
8. Audrey Hepburn's Fawn
Is there anything more twee that seeing Audrey Hepburn at the grocery store with her pet FAWN?! Audrey met Pippin when they were filming a movie, and the animal trainer suggested she take the deer home so they could bond.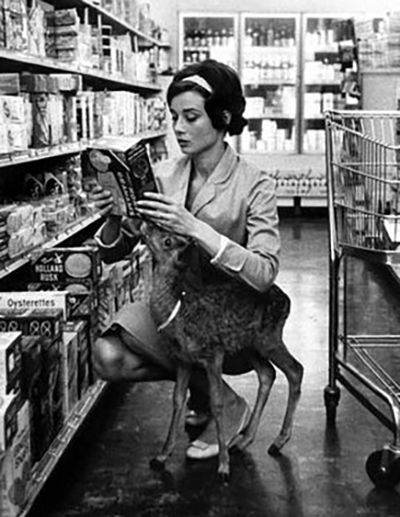 Image Source: IMGUR
"Would you like mommy to make you some pancakes tomorrow, darling?"
They soon became best buds and went everywhere together, including the market.
9. Heidi Fleiss' Birds
Hollywood Madam Heidi Fleiss has gone from prostitutes to parrots. Fleiss lives in Nevada with over twenty Macaws that she inherited from another madam.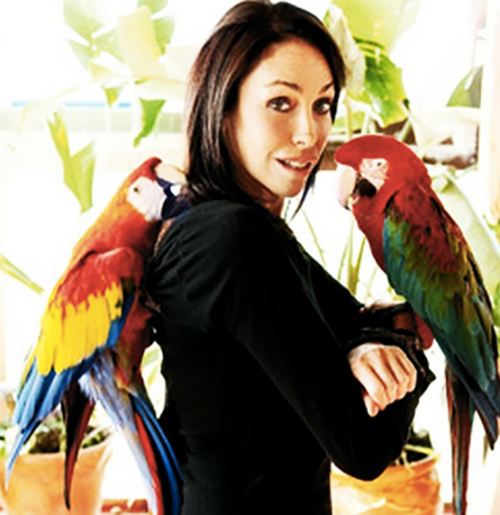 Image Source: NY TIMES

"I don't care that you found a john with a feather fetish! I won't turn tricks for you."
She recently made headlines when she let the birds loose on her ex-girlfriend.
10. Zorita's Snake
We don't know much about Zorita, the Burlesque Queen, but this photo of her walking her pet snake is pretty epic.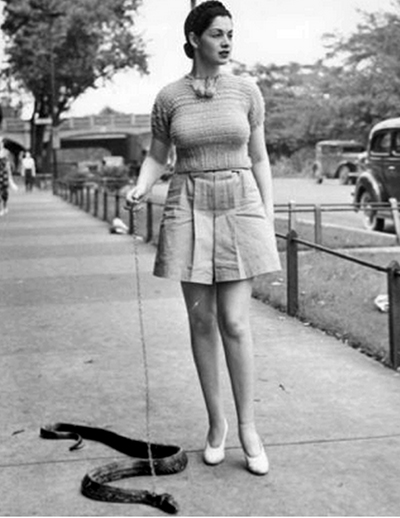 Image Source: shadowvue.wordpress.com
If all women walked around with snakes, maybe guys would think twice before cat-calling.
She also liked to use snakes in her strip tease act.
No matter how famous you get, you still need someone who "gets" you, as these stars prove.